Latest Horse News!
December 14, 2017
Today the Horse owner's nightmare happened. My beautiful Saphyra had colic surgery. The HUGE blessing is that she was insured and the surgery went very well. No obstructions, no real cause except to say that the horse's colon was not designed all that well, and the gut got twisted to the outside of the organs instead of the inside. It never righted itself when given a few rounds of sedation and pain meds. I was thankful that we had her at the best Equine Hospital you can find in Idaho and the best surgeon ever, Dr. Pete Knox. Now we begin 3 months of slow, careful re-hab. We'll see how quickly she recovers to be able to compete again. I'll let her tell me that . . . A big thanks to all for you support and prayers!
July 31, 2017
Wow- time flys when you are on Facebook- ha ha! Haven't used this "Latest News" except to archive happenings here and there (obviously!) Still at it and doing fine . . . Teaching Pony Clubbers and working on 3rd level dressage. Life is grand!
August 23, 2016
Saphyra is currently 1st place at First level in USDF's ISR Oldenburg "All-Breeds Awards" with an averaged score of 72.500% Working on second level movements and she is starting to get it!
May 29, 2016
Enter "Leonardo Dacaprio"!(NEWS FLASH- now the name is possibly going to change, we'll see!) Saphyra's baby, using a surrogate mother. Pretty darn exciting!!
May 31, 2016
Saphyra was ridden by Nadine Schwartsman beautifully over the weekend. I had the distinct privilege of just watching while I managed the show, while they took care of her in every way!!
May 17, 2016
I never seem to write in here anymore. Everything is on Facebook and so instant. But I look at this kind of like a journal (Though not a very good one- ha ha!). Saphyra's baby is due the end of this month. I am very excited to meet this glorious creature soon! In a few days we will be having the Idaho Dressage Festival. Nadine Schwartsman will be riding Saphyra for me, since I am not allowed to ride her as the manager of the show. Just two weeks ago Saphyra had her Hunter debut. I rather liked it -except for the waiting and waiting. I may just do more of that in and around the dressage stuff!
HERE is the video
August 14, 2015
Time flies when you are having fun!! I told you I would tell you the stallion that was picked for Saphyra . . ., The stallion is "Dacaprio". Google his name and you will see he is a pretty awesome choice!! Happy that the baby is doing well so far in its surrogate mom.
Now to speak of other things! LIKE SHOWING! Haha:)
I was fortunate enough to be able to do two weekends of dressage shows this year, one being in the treasure valley luckily, as it is so expensive to travel! My fabulous sisters and mom sponsored me to go to the second show in Spokane, WA. Being able to attend at least that many shows this year allowed Saphyra and I to be able to compete in enough materiale classes to qualify for USDF materiale awards-not enough for regular USDF training level awards, but enough regular Training level classes to fulfill the requirements of IDEA state association awards. I always find that it helps me focus better to have goals that are tangible to work towards. Anyway, the "show year" was short and sweet. I'll let you know how we end up. Currently she is the highest ranking ISR-Oldenburg 4-5 yr old mare in Materiale and ranks third in the country across all breeds. But there are lots of other very talented and well-ridden horses out there who are showing in more competitions than I am- we'll see! Love my mare - she's totally a winner in MY book!
June 4, 2015
I am honored that a good friend wanted to create another "Saphyra" for her son. She was going with the exact same breeding, but Saphyra's dam is getting older and has not proven to be as fertile recently . . . Sooo, she went with using Saphyra's egg to bring the refinement and movement and will be crossing that with a high quality stallion of bigger size and strength, since the foal will be carrying a larger person . . . Hopefully next year we will see a Saphyra baby, without Saphyra having to go through labor!!! I'll let you know who the stallion is once I am sure who she picked :)
January 16, 2015
A new year brings a renewed look at what our goals are and how we will achieve them! So I am turning a corner in my horse life. I have always considered myself an eventer first and a dressage person second, as far as my personal goals. I now am shifting my focus to dressage, and I'm sure we'll do some show jumping / low-level XC schooling locally. Many reasons why: 8-16 hour drives to get to any recognized USEA horse trials, two concussions- can't afford to have more, I now own a talented dressage youngster, I would like to have a better opportunity to be "REALLY good" at one thing instead of moderately good at many things, I like the USDF programs ... Still love my North Wind Jumper Series Shows (just wish I could ride at them too!)
September 26, 2014
Just found out that Saphyra and I were selected to ride in the Hilda gurney USDF Adult Clinic October 4-5th. She is a tough instructor- but I am willing to put myself on the chopping block to hopefully come away with some great knowledge . . .In the mean time I am also enjoying jumping and trail rides with her. She may MOVE like a dressage diva, but I think she enjoys the diversity of doing other things besides dressage :)
August 26, 2014
Saphyra is currently 6th place in the over-all USDF placings and 3rd place for ISR-Oldenburg USDF breed awards for 4&5 year old Mares in Materiale with a median score of 77.85%. So happy with her!! Even though she had a rough start in the spring at the Idaho Dressage Festival, she still proved herself to be a real talent! This year has been a breakthrough year for me as well. My resolve to obtain more lessons has worked out through the varied skill-sets that I have leveraged, and I am finally able to improve in the way I always knew I could. Next Year Saphyra will be 5 years old. I am excited to begin to play with "the big boys" with her next year.
July 14, 2014
I really have let my "Latest News" go to pot since last September. So sorry- there have been so many things going on and I have backed away from the horse biz as a full-time thing . . . Anyway, Saphyra had a super weekend at RafterK, one of the Idaho Event Derby Series shows. She gained a ton of experience, jumping solid obstacles, going through water, jumping ditches, etc. She won her Xrails Derby at the ends of the weekend too . . . a little feather to the cap of the whole weekend!! A friend of mine took a little video of the dressage ride. Please pardon my saddle slipping off to the left-argh.
September 21, 2013
Well, she won her third Derby too - what a cutie patootie! What I love most about her is that she has no problem going away from her buddies. The year is starting to wind down and we are preparing for Annual Meetings, etc. Can't wait for next year!!!
July 15, 2013
Second Derby of the year and she won it again . . . Not that I am out to be the Ground Poles Queen, but she already shows a consistency and self-assuredness of a pro :)
Here are a couple of little videos my friend Char took of us:
Dressage:
Cross Country:
May 28, 2013
Saphyra's first event derby was this past weekend. I have never in my life experienced such a wonderful youngster as her. She was kind, elegant, lovely, well-mannered and relaxed . . . Still pinching myself at how lucky I am to have her!! She won her little ground poles division with her dressage score of 26.25%. Hard to believe that she is not even fully 3 years old yet. Watch out world, here she comes!!
Jan 23, 2013
Well, I researched Saphira's name in USEA and USEF. There are 7-8 "Saphira" registered and there is one "Saphira" registered in USEA. That means if I want to do some eventing with her I would have to call her "Saphira II". I don't want to do that. So seeing that i have paid the USEF to register her and it doesn't cost anything to change her name before I start competing her I have decided to change her name to "Saphyra". At this point she would be the only one . . . a little bit of a pain, but worth it to have her have a unique name!
Jan 10,2013
Sophie and her adorable little horse "Lucky Charm" have been such an enjoyable part of the Winter Jumping Series Shows. I was so sad to hear that he didn't survive his second colic surgery.
Lucky was a darling pony.
Dec 18, 2012
We finally have the dates together for the Test of Choice Nights at Rocky Hollow Farm in Kuna!
Click here
for the entry form. Looking forward to Intro Tests with Saphira as well as some ground pole level event derbies and trail rides!
Dec 12, 2012
OK, so the world didn't end today- haha, so I rode Saphira in the "Rafter Wineglass" indoor arena in Emmett. It's a rather spooky environment, with mules braying, cows, shadows and spooky things the the corners, but she was incredible!! Thanks to my friends Char and Lyn for helping me with everything . . . below is a video of a little trotting. Not doing much because she is only 2 1/2 at this point!!
October 23, 2012
First ride on Saphira! Sunday I just decided to go for it and we ended up walking around the round pen all by ourselves! This is the start of a fun journey :)
August 21, 2012
Devastated at the loss of the best little horse you could ever want, Mr. Blazer. Kenzie, Meg and Maddy I am so sorry for your loss. These horses are so very fragile, as strong as they may seem to us sometimes . . . Mr. Blazer was a horse you would trust your 3 year old on. I am struggling with how we will ever find another horse like him . . . Kenzie cried herself to sleep holding his halter. Very sad.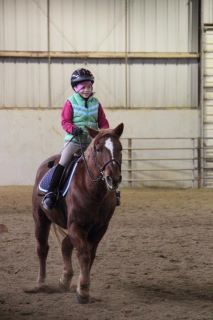 July 26, 2012
I have to say that my horse life has been fairly quiet recently. My personal horse now has a new owner and my new horse is too young to ride. I have been riding client's horse, thankfully, and not taking any 'new" students or horses in training in anticipation of a very exciting Music school I will be co-founder of (or as we say "co-flounder" haha). Once again my life flips, this time to have more emphasis on my other love . . . music. As Dave Ramsey says, an idea has to be honed many times until it comes to fruition. Both my husband and I believe this is the synchronic culmination of years of study, and I will be please to let you know more about it once things are confirmed . . . Until then I am grateful, life is good.
June 28, 2012
I wanted to share this special piece that Margrith and her friends put together. You should have the volume up on your speakers initially, and there are no pictures while the monologue is spoken, FYI. The pictures and the music chosen are really great. We love you Sunny, Gina and Margrith!!
On Friday, May 13, 2011 I lost my first horse, Rosie. I never thought I'd be able to love so deeply again. I was wrong. Sunny came into my life and for six months, she showed me how powerful second chances can be. I feel extremely grateful to have had those six special months with Sunny. Sunny showed me that Rosie can never be replaced but it does not mean I cannot love another again. Thank you Sunny.

Gina, thank you for giving me the opportunity to get to know your girl. She is truly a gift, a diamond in the rough. I cannot thank you enough.

Note: The monologue at the beginning is pretty quiet. Turn up your speakers. After it's finished, volume returns to normal.
June 18, 2012
Sara Breckon's horse, "Blue" was sold a week ago to a great home in Montana! The young girl is 13-14 years old and she does really well with her. Blue loves to jump, so I think they found a great partnership! Pictured below is Caitlynn and Blue already showing and winning!! We wish them much success together . . .
June 17, 2012
I know, I know . . . my bad for not keeping you informed about what is going on. Nowadays there is facebook and working on other websites, etc. at which point when I am done with all that I haven't felt up to starting again on MY site! Anyway, life is good. Saphira turned 2 years old on June 12th. I have been ponying her and giving her short trailer rides recently, as well as all the ground work we have been doing. My goal is to take her out in the owyhee mountain range and Eagle & Emmett foothills with friends a lot this summer and fall. Just ponying her so she gets to see lots of things and becomes used to getting out and about.
Here is a pic of me ponying her recently:
April 23, 2012
Breezer now has a new home in Northern California! It is exactly what I wanted for him: an Adult Ammy who is a good rider and who is happy going Training Level, so he doesn't get pushed to hard and fast. Brook takes from Laurel Glass and David Acord, so I know she and Breezer will be in good hands!! We wish Breezer and Brook the best. I will surely be rooting for them at every event!!!
I have purchased a young, talented dressage prospect named "Saphira". Her Sire is "Sir Donnerhall" and her Dam is a Primarily Trakhener / TB cross who is in the main ISR/Oldenburg book, named "Nickerbocker".
December 7th, 2011
It was with great sorrow that we said farewell to a good friend today, when our stallion, Brandenburg's Windstar, was euthanized due to a deteriorating arthritic condition in his spine which was causing severe neurological symptoms. Resulting from past injury, his condition had progressed to the point where we owed it to him to make the only humane decision.
Windstar was a kind and generous horse with great heart, and we will miss him. His legacy lives on in his offspring.
Tuesday, November 8, 2011
This week is the Idaho Dressage and Eventing Annual Meeting and Awards Banquet. I am the "Prez", so I have been busy with preparations . . . Looking forward to a fun time! Breezer was fabulous out at Eagle Island. Can't wait to jump around at Mittleiders on Thursday with my friend Gina!!
Wednesday, September 28, 2011
I am re-inventing my gallery to make it simpler to put pics up. I haven't been able to add anything for a while, as the module I was using wasn't cooperating! So look for some more additions to my gallery over the next week or two, now that I have the basic idea rolling . . .
Thursday, Sept 8 , 2011
Wink went to his first HTs at Aspen Farms in Yelm, WA. He won his division on his dressage score (26%) and was really solid all the way around!!! he seems to like his job alot . . . It has been hard work But the whole experience has been very rewarding of course :) . . . he has come far!!!
Wednesday, Aug 24 , 2011
Just got back from an amazingly fun weekend up in Enterprise, Oregon at Christi Payne's family place, Dunham Ranch! During the Saturday evening wine and chocolate event I took the four-wheeler and went up on the mountain top Cross Country field and drove around the course I was to jump the next day as the sun was starting to set. The view was incredibly vivid as the shadows fell across the mountains . . . a heavenly place. Winky was a total joy to ride. As his rideability catches up with his talent he will be a force to recon with! I am so fortunate to be able to ride him. Many thanks to Carol Griffith, Willowgate Farms.
Monday, Aug 8 , 2011
I did my first ever endurance competition called the Pink Flamingo Classic", in Cascade, Idaho this past weekend! I rode Takima, Lyn Kinney's 13.3H bionic Egyptian Arabian pony in a 25 mile race. We did it in 3 hours, 1 minute, and pulsed down incredibly fast, winning the best conditioned and highest vet award, plus 3rd place over all. Since I only have had her in dressage training 2 days a week and have only done 2 trail rides with her I was concerned that she'd be much less fit as the other horses I was riding with. Instead she led the way and did incredibly well! Maybe genetics play a factor in that?? I don't know. I learned a lot throughout the weekend though, and I beleive I have found yet another thing that I love to do with horses!!
I have been riding some cool client's horses in dressage shows as well, and I have been working with a very special horse of carol Griffith's from Willowgate Farm. His name is Wyndemere (aka Winky). It's been a slow, patient process getting him to stop with my seat instead of him wanting to run thru my hand . . . 4 months working on walk/halt transitions with very little trotting in each training session!!! Worth it though- the patience has paid off and his trust has grown tremendously . . . I had planned on taking Winky to his first Beginner Novice HTs at Aspen Farms in WA, but with the EHV-1 outbreak we haven't been able to give him the experiences he needed to get there this time . . . Things tend to happen when they should - Like I always say "It's all good!!"
Sunday, March 20, 2011
Well, I am in the process of setting up dates for NEXT year's winter jumping series, since that was too much fun!! My goal is to book a full day instead of 1/2 day each time. We had so many lower level riders and this way the mid and high level won't have to wait around so long after warm-up . . . in fact they will have their OWN warm-up! My calendar has already had some changes, things are starting to fall into place and I am looking forward to a fun year!!
Wednesday, February 23, 2011
The last Winter Jumping Series show is coming up on March 12th. It has been a great thing and I look forward to doing it again next year!! So much is going on in the world and in my own life . . . it feels like time has sped up and I am rushing to catch up with it! I will write more when things settle down a bit (does that happen??)
Monday, December 20, 2010
The second Winter Jumping Series Show was again a ton of fun!! Maybe I am a glutton for punishment, but I thouroughly enjoyed putting these first two shows on so far . . . I feel like I am so blessed to have the group of people that I have around me to do this. They stay until the job is done, they do what they said they would do, they smile as they do it . . . what a cool thing. We give people the opportunity to get their horses out in the winter when it is hard to do so, they contribute to the cause of furthering my horse's growth, when I can't personally afford to do so- and it works out to be a fun time for everyone. Isn't that how things are supposed to work?? I love it . . . . I look forward to the next one. Until then I wish the merriest of Xmases to all of you and I hope to see more fresh faces on Jan 15th, when we have our next show!! Love, Nancy
PS. Breezer still remains the "King of JP" . . . When he needs some "sugar" he goes to the edge of the girls pasture and they come over and swoon around him, and when he wants a certain pile of grass hay in the gelding pasture, they all back away. Makes me wonder if I really did geld the beast- haha!
Friday, December 3, 2010
The first Winter Jumping Series Show was a blast! everyone that competed or volunteered all seemed to have a great time. I've had good response from others that they are planning on attending the next ones, so the momentum seems to be building . . . Hope so! Click here to get and entry form/class list and come on down!
Breezer's shoes got pulled yesterday to give his feet a chance to re-coup over the winter. For the first time in his life he is turned out with a herd of geldings and he is LOVING IT!!! I am glad to look out in the pasture and see him out there acting socially acceptable :) The only turn-out he ever had previously was either alone or with his cohort Swing-and they played ROUGH, but enjoyed each other.
Saturday, November 13, 2010.
I just got back from the IDEA meeting, so I feel like I can take a deep breath and reflect on what has been happening this fall . . . Breezer just got back from Galway Downs in CA and rocked it- He was 2nd place after dressage (tied with 2 others) and was clean in both stadium and cross-country. He had some time faults which put him in 5th place after all was said and done, but I have no problem with that. I was thrilled that he stepped up to the plate and finished so well in a division of 24 horses!! Breezer schooled over some larger stadium and XC fences earlier in the week. I think the preparatory work really helped him to understand his job in a better way. So far so good. Although we haven't had the funds to go to a lot of events each time we go out he gains more experience and progresses in his training . . .
Friday, August 27, 2010
Last weekend was the Karen O'Connor Clinic and show at Jug Mountain in McCall, ID. I was looking forward to seeing her again, especially for her to meet Breezer and to pick her brain about how my pony friend Swing was doing. As usual Karen was meticulous and very clear on what the proper rider position should be. As a rider she expected you to get the task done to perfection, whatever the task may be- just the type of clinician that makes you raise the bar for yourself!
At the end of the first day in conversation at the great BBQ Karen said "Breezer wants to go Advanced". It was great to hear that type of compliment from someone like Karen, who has seen a million horses and knows what it takes to get to that level!! Can't really tell if it's true with any horse ultimately, IMO, until you get out there more and hopefully take the horse along correctly, etc, etc . ..
Wednesday, August 11, 2010
Sometimes goals are met and the score is irrelevant. Such was the case at Young riders Benefit HTs last weekend with Breezer. He was the best horse EVER in the warm ups - . . . He galloped fabulously cross country and jumped in good form, although there were still some green moments that will keep us at the training level for a while longer . . . our stadium round was really darn good. My rider errors and miscalculations in XC were really what held us back. I learned a lot by making those mistakes!!
So even though I was "TE'd" I have a really good feeling about the event. Things aren't always as they seem when you read the scores . . .
Tuesday, July 6, 2010
This past weekend in Bellevue, Idaho (Sun Valley) was the clinic with 4 star rider Allison Springer, followed by the Rafter K Derby. Tara Godfrey and her daughter Courtney drove with me. It was their very first jumping clinic and derby and they were troopers!! Tara and her 4 year old 1/2 draft ("Derbygirl") competed in ground poles and XRails and came home with a 2nd and 4th place. Congratulations to them!! Gina Gildone was also there with her young 1/2 draft ("Winnie") and her favorite mare ("Sunny"). I know that Gina got a 2nd and I can't remember if whe received another ribbon, but whatever the case they did a fantastic job and we all had an absolute ball!
Allison's 4* horse is "Arthur". He happens to be Breezer's 1/2 brother, so I was excited to clinic with her, hoping she would have some good insight to share . . . and she certainly did! I was able to pull things together and came away with a bullet list that I realy think will help my riding - and add to my teaching as well- worth the money, IMO!
on Derby day Breezer's attention came and went a bit in dressage, but I did feel an improvement in his overall balance, etc from the last season we competed (one step at a time, eh?). On the XC phase he was a rock star. He really enjoyed himself - we came away 2nd when all was said and done . . . Can't wait until the next outing
Wednesday, June 23, 2010
To have Breezer come away in a field of 21 horses winning the division was very sweet indeed! Golden Spike HT is always a down-to-earth event. The course is straight ahead and the facilities are good. The downfall of the place is just that it is not set on grassy pastures for optimal camping, but all in all it's really a nice event and the Wyoming, Utah and Montana competitors are fun folks to hang with.
Dropped the clutch on our truck 1.5 hours from Boise!!! Luckily we were on the highway, so we kept driving since we didn't need to shift and limped the truck as far as 1 mile from the barn. Jon Anson came and towed truck and trailer into JP. THANKS JON!!!
Thursday, May 27th, 2010
Wow!! Jon Anson has just put up three more stalls along the shed row that we affectionately call the "business class" at JP Arabians (an all-breed facility on the corner of El Gato and McDermott in Meridian). The place is growing! I really love the vibe there and I appreciate all my students/clients. What a great group!! If only the weather would cooperate so that we can get back to our ringside lunches. . . The dreariness of the rainy days has been wearing on me a bit.
I took Breezer to the schooling H/J show and he was incredibly adjustable and rhythmic- what a joy! Too bad I missed the first local IHJA recognized show 'cause he would've rocked it (I bowed out because the weather was so bad- I know, what a whimp!). Breezer and I have been on the trails more days since last fall than he has been in his lifetime. It has been a positive thing for him. I am just very thankful to have such a cool horse . . . lucky me.
Congrats to Pat Anson, Lyn Kinney and Michelle Bowers for doing so fabulously well at the Treasure Valley Classic Arabian Show at the Idaho Horse Park!!! I learned a lot by watching. One thing I learned is that dressage training works, no matter what you want to do with your horse! I will post the championships, etc on the awards page once I get all the info straight- so send me your award stats, any cool pics for my gallery too! I am very proud of you all :)
For those who are following Swing's escapades he has just finished his second Training level HTs in Virginia, where he ended up 6th with one rail down in stadium. Hannah Sue Burnett has been doing an awesome job with him!! I hope to be able to chat a bit with Karen O about him when she comes to McCall to teach in August . . . Until then I just follow the results when I find them.
Friday, May 10, 2010
I would like to take a moment and acknowledge my "team behind the scenes". They are the people I depend on to keep my horse(s) working to their potential.
Many thanks to Heidi Donohoe (Zephyr Ranch, Fairfield, ID) and Kellie Case (Middleton, ID) for thier Micro-current work. It was great to see recently that his numbers were right up there on his shoulder. It is amazing what good body work can do for your horse - they are athletes, just like we are!!
Dr. Sid (Sid Erickson, vet/chiropractor from Montana) is my favorite chiropractor, and I use him whenever I can afford to. He comes to Boise once a month. He is amazing!!
I also really appreciate Melissa Smith and Dave O'Larey for their commitment to Equine Podiatry and all the work they have done on Breezer's feet. They do a fabulous job!! Go to this website for more info on what Equine Podiatry is all about: http://appliedequinepodiatry.org/.
Feel free to email me for any contact info on my "team behind the scenes".
Last Updated (Friday, 04 May 2018 19:24)